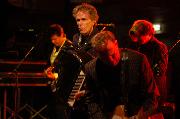 The Hooters in a recent performance.
One of the intriguing concert dates of the new year at Sellersville Theater will be Jan. 23. There will be solo performances by members of The Hooters, namely Eric Bazilian and John Lilley.
Among Bazilian's career activities have been writing the Grammy-nominated "One of Us" by Joan Osbourne, "Kiss the Rain" by Billie Myers and "Private Emotion" by Ricky Martin (haven't heard those last two in ages!), and playing guitar on Clay Aiken's debut album.
Lilley, meanwhile, has recently discovered within him "a sleepin' cowboy who has a lot to say and won't shut up." The result is the album "Lucky Kinda Guy."
And I would imagine there will be some old-school Hooters tunes in the mix somewhere ;)
Anybody remember when The Hooters played at North Penn? They were playing in about every high school in the Delaware Valley at that time. I want to say that was 1982 or 1983.
Show time is 8 p.m. on Saturday the 23rd with tickets from $21.50-$33. Call (215) 257-5808 or go to
www.st94.com
.
More links:
www.myspace.com/ericbazilian
,
www.johnlilley.com
.