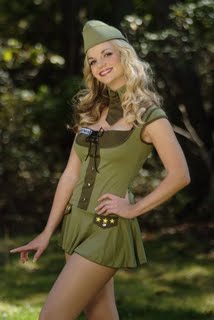 Doreen Taylor in one of the photos from her book, "Coming Home." And I am NOT a chauvinist pig for posting it.
*I've been sorely lacking truly local content on the blog lately. So I'll start by mentioning that Flower Power is playing a free show at the William E. Hare American Legion, 43 W. Second St., Lansdale from 8 to midnight Friday the 26th.
*This is one of those rare weeks when North Penn School District has let me down. For whatever reason, I can't get any information on the Knight of Jazz, which is supposedly happening Friday, or the NPHS Indoor Guard/Percussion Show, which is scheduled for Saturday. Because these are high profile events, I don't like to just put info. in the paper without confirming it first. Can anyone help me on this? Why is this being kept a secret from me?
*Model, dancer and singer Doreen Taylor has recorded a CD of hit songs from the '40s and posed for a 36-page book where she recaptures the va-va-voom of World War II-era pinup girls. Both are called "Coming Home," and part of the proceeds go to help the military troops of today through Special Operations Warrior Foundation, a nonprofit that supports more than 60,000 Army, Navy, Air Force, and Marine Corps special operations personnel and their families. What a great idea this is! Although the red carpet release party in Philly Friday night is by invitation only, you can learn more about the "Coming Home" project at
http://www.doreentaylormusic.com/
.
*The British band Muse is playing the Wachovia Center in Philadelphia at 7 p.m. Tuesday. Seriously? I wasn't all that impressed with the song "Uprising," which is a somewhat of a jock jam. Oh, I get it now - they had songs in the "Twilight" movies! Yeah, whatever. I do, however, think their song "Feeling Good" from the film "Seven Pounds" is exceptional. I just can't wrap my brain around this band playing a major arena in the States, that's all.