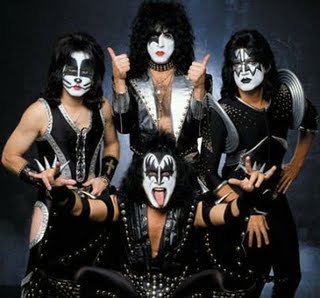 If you were alive in the '70s, you remember Kiss.
Who would've thought back then that they'd still be around for a "Kiss Alive 35" tour, which comes to the Wachovia Center in Philadelphia Oct. 12. Tickets run from $25-$128.
Did you know they have a new studio album called "Sonic Boom"? Maybe not, since it's a Wal-Mart and
www.walmart.com
exclusive release. The album is the centerpiece of a three-disc set that also has a re-recorded greatest hits CD (Huh?!) and a live DVD from Kiss Alive 35's stops in Argentina.
When I got the first Kiss album LP as a Christmas gift in 1977, the song "Black Diamond" was both thrilling and terrifying at the same time. The thing I couldn't wrap my brain around was the ending fade of the song. It sounded like someone was tinkering with the rpm control on my record player, yet the record was still spinning at the same speed. 'AAAAAH those people at church were right - Kiss really does stand for Knights In Satan's Service. My turntable is possessed! Oh maaaan!'
What my older and wiser self knows today is that they were gradually slowing down the speed of the master tape till it came to a dead stop.
In the grocery store in those days, there would always be some magazine with Kiss pictures in it. As a wee third grader, I liked Peter Criss' cat makeup the best, and Gene Simmons' demon/vampire act scared the bejeezus out of me.
Still have my Kiss trading cards!!!
I remember well the Kiss dolls, that odd TV movie they made, the comic book that made news with the band sprinking vials of their own blood into the ink, the simultaneous release of four solo albums, and when they shocked the world by taking their makeup off. After that, they didn't do too much that was memorable till the mid-90s, when the theatrical pyrotechnics returned and Ace and Peter rejoined the group. Whew, I still wince thinking about that late '80s power ballad hit "Forever."
And go figure, Kiss is hip again thanks to Guitar Hero and "American Idol."
Tommy Thayer and Eric Singer have since replaced Ace Frehley and Peter Criss, respectively. Yet they're still wearing the makeup/personas of their predecessors. I'm not sure how I feel about that. You want to protect the integrity of the Kiss brand, yet it seems deceptive.
When you boil Kiss down to its essence, there is no occult conspiracy, like some people used to think. Kiss is quite simply a clever blend of pop hooks, heavy metal sleaze, and the excess of good, old-fashioned musical theater.
The Kiss Army is alive and well at
www.kissonline.com
.