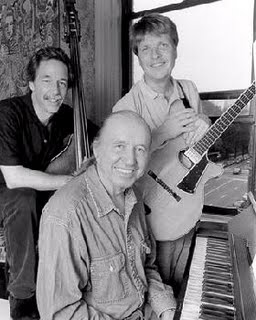 Earlier this month, my son and I caught one of the jazz cabarets at Allentown Symphony Hall. Bob Dorough has been making records since 1956, and he's the only vocalist that Miles Davis ever recorded with!
Dorough, who is now 82 years young, has a distinguished career, yet he is best known as the musical supervisor for ABC-TV's "Schoolhouse Rock."
If you grew up with "Schoolhouse Rock" like I did, you'd recognize the guy's voice right away.
I had the chance to talk to him before they opened the doors of the third floor Rodale Room (and served lasagna along with a cash bar). What a super nice guy he is!
Besides performing "Schoolhouse Rock" classics that he wrote, like "Three is a Magic Number," "Conjunction Junction" and "Figure Eight" with his trio, he also did a memorable version of the Gershwin Brothers-penned song "But Not for Me" and a terrific anti-Christmas song he wrote and recorded with Miles Davis (who Dorough referred to affectionately as "The Prince of Darkness") in 1962 called "Blue Xmas (To Whom It May Concern)."
Perhaps the highlight of the evening was during the intermission when kiddo and I were talking with Dorough's guitarist. Steve was playing this cutsom built, electrified, acoustic guitar that was made by a friend of his in Philly who died from leukemia at age 44. When Jr. was talking to Steve about his ongoing jazz saxophone instruction, Dorough walked up, gestured toward Jr., and said, "This guy's a musician." Dorough and his guitar player raved about the Celebration Of The Arts (COTA) that's held annually in Delaware Water Gap, Pa., and were telling us we ought to move there because of what great music education they have in that community!
Also, if you're getting tired of the same old Christmas music on the radio, 88.5-FM WXPN has a breath of fresh air coming Christmas Day. Their syndicated "World Cafe" program will feature an interview with Sting from noon to 2, featuring tracks from his new holiday album "If on a Winter's Night..." Sting will talk about where he drew inspiration for the album, what the holidays were like for him as a child and today, and why he feels the season is a mix of light and darkness emotionally. Sting will be coming to the area in January to perform with the Philadelphia Orchestra.
Later on Christmas Day, "World Cafe" will air a special Christmas show featuring Preservation Hall Jazz Band and Aqua Teen Hunger Force (!) from 2 to 4 p.m.
The radio station's impeccable Year in Review is on tap for next week. The listener-selected best-of will feature the top 10 favorite CDs and top 100 songs of 2009, with the albums airing 10 a.m. to 2 p.m. Dec. 28-31, and the songs from 8 a.m. to 3 p.m. Jan. 1 and 4.