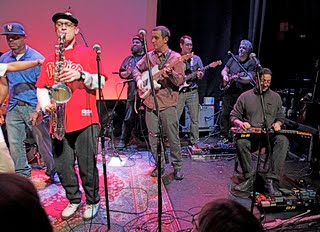 Here's a photo from the final jam at the Haiti benefit at Sellersville Theater. Shame to hear that there are still major issues with getting aid to the people, even after all the outpouring of compassion locally.

One of the twits on Twitter recently wisecracked: "So the iTunes store has Bob Marley's 'Legend' on sale for a limited time for $9.99. Doesn't everyone in the world already own this album?"
Oh, but there's a new way to experience it, my friend!
On Saturday, the Keswick Theatre in Glenside is going to have a Canadian outfit called Classic Albums Live performing that essential reggae retrospective cut for cut ... on Robert Nesta Marley's 65th birth anniversary, no less! Tickets range from $19.50-$32.50. Call (215) 572-7650 or visit
http://www.keswicktheatre.com/
.
Originally released in 1984, "Legend" was declared by Rolling Stone to be #46 on a 500 Greatest Albums of All Time list published in 2003. Listening to the disc certainly brings some warm sunshine, regardless of the season.
I was also surprised to learn that three of Marley's sons were Grammy nominees last weekend, just because it's so tough to follow up greatness.
I can only give you a YouTube link to one of the Marley Classic Albums Live clips because it isn't letting me embed the video itself :(