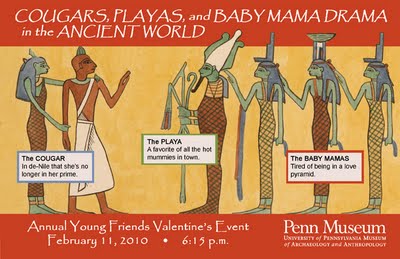 I find Valentine's Day to be the most repulsive, made-up holiday of them all. So it's a pretty big deal if one of these "seasonal" events makes me laugh out loud.
The Young Friends of the Penn Museum in Philadelphia succeeded in doing just that with "Cougars, Playas, and Baby Mama Drama in the Ancient World"!
After the latest installment of Snowmageddon, it's been pushed to Feb. 18.
There's mingling and a cash bar. Admission is $10, $5 for museum members (includes one complimentary drink).
Register at
http://www.penn.museum/
.